NBVM Novena Day 4 Reflection: Life of Mary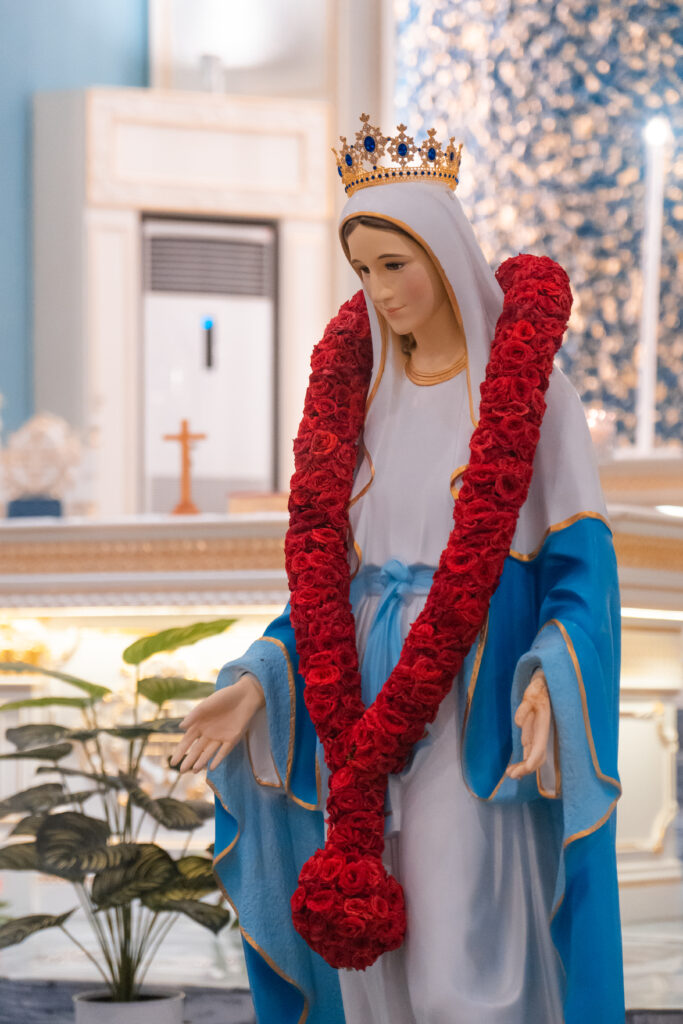 In reflecting the on the life Mary, Fr. Patrick Massang recapped on the many weddings he had celebrated. He said the wedding celebrations are all beautiful with hopeful couples who believe that they would live 'happily ever after'.
Happily Ever After?
Mary too must have had thought that she would live 'happily ever after'- because God will look after them and make the way possible. The Holy Spirit gave the assurance that He will overshadow them.
No Blueprint;Facing Scandal
Mary on the other hand had to deal with a Virgin Birth that went against all logic and human nature and was at the risk of being stoned to death. God must have seen like a big joker! However, Mary having spent so much time on scriptures, she believed – Prophet Isaiah: A young woman will conceive and give birth to the messiah
Mary was not given a blueprint for her life. Imagine the gossip that must have been circulating. She and Elizabeth must have been the laughingstock of their community because of Mary's pregnancy out of wedlock and Elizabeth's at a very old age. But these women endured what came through faith. No matter what scandals we face – God will walk with us!
Mary Hears and Keeps the Word
When Mary attends the talk by Jesus, someone recognizes her and praises Jesus "Blessed is the womb that bore You, and the breasts which nursed You!" But He said, "More than that, blessed are those who hear the word of God and keep it!" "My mother and brothers are those who hear God's word and put it into practice." Mary did just that – she heard and obeyed.
Mary praised God during her visit to Elizabeth- when there is good, we too should praise God. Maru's attitude is one of a lowly servant – For he took notice of his lowly servant girl, and from now on all generations will call me blessed.
Beginning of Her 7 Sorrows
The presentation at the temple was the beginning of Mary's seven sorrows. She presents Jesus to Simeon and is shocked to hear those words "This child is destined to cause many in Israel to fall, and many others to rise. He has been sent as a sign from God, but many will oppose him. As a result, the deepest thoughts of many hearts will be revealed. And a sword will pierce your very soul." Mary continued to say 'Yes'.
When Jesus went missing at the age twelve, she became frantic like any other mother searching for him. His reply was "Why were you searching for me?" he asked. "Didn't you know I had to be in my father's house?But his mother treasured all these things in her heart." She ponders what God was trying to tell her.
Sorrowful –at the foot of cross of Jesus – Jesus asks her to behold John as her son. She must have cried in her heart that she wanted Jesus. Mary was there through all the pain and suffering Jesus went through.
Story of Perseverance
Fr. Patrick added that Mary is an important person in the church because she walks with us in all our pain. Her story is the story of perseverance. The Redemptorists take 4 vows- poverty, chastity, obedience and perseverance. They hold on to Mary tightly and ask her to help them when it gets difficult. She intercedes for us like she did at Cana and Jesus will listen to her. The story of Mary is the story about us with ups and downs in life. We can hold to Mary and ask her to send graces to endure and be faithful to our call. Because of this we crown her as our Queen and Mother and ask for her blessings.