Mary, A Model for Women Today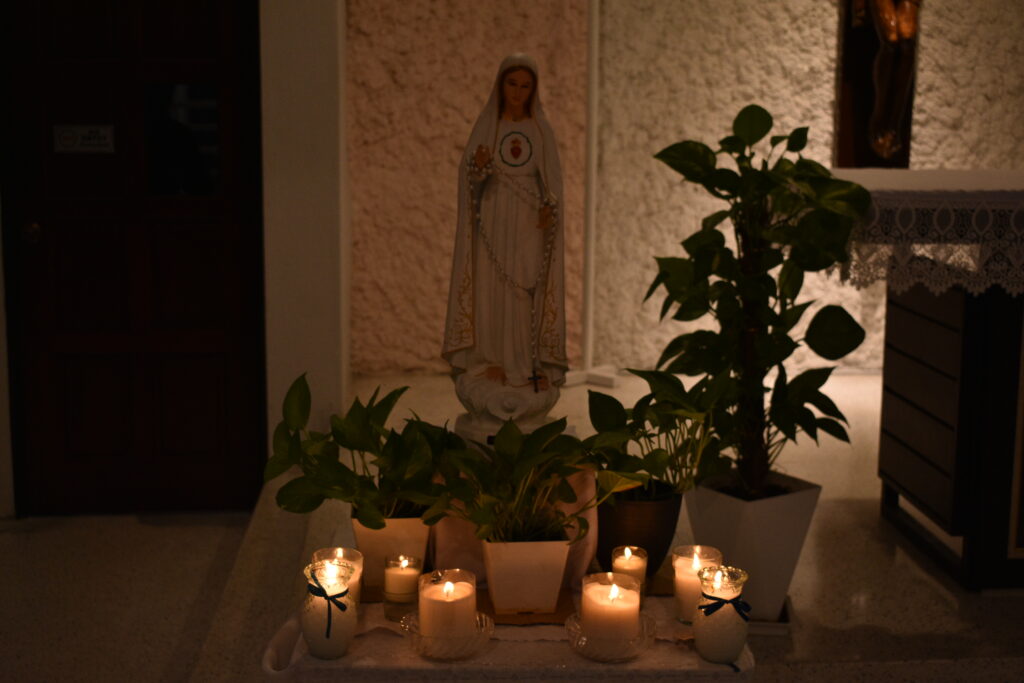 Many of the 150 people who participated in "An Evening with Mary" on 13th March 2023 at NBVM expressed that they were touched and that it was an enriching and well-spent evening.
The monthly Rosary event was extra special this March as it coincided with International Women's Day. The event initiated by Jacqueline Lourdes, chairperson of the parish liturgical team, was a celebration of Mary, the model of womanhood and motherhood.
The event kicked off with a multilingual recitation of the Holy Rosary followed by a talk on Mary by Deacon Lazarus. Using quotes from the Bible, excerpts from Catholic tradition, as well as personal anecdotes, Deacon Lazarus presented Mary as an icon of love, through her role as woman and mother.
Deacon first probed those present with the question, "Has your understanding of Mary grown over the years?" He went on to say that if the answer is no, it is perhaps a time to re-examine the openness of our hearts and minds to God's message and plan. He then spoke of how Mary's life was dramatically changed after her "yes" to God; how that "yes' required her to have complete trust in God to help her through life's immense challenges.
For Deacon, the motherhood of Mary came alive in seeing his daughter become a mother. He shared about the unconditional love exhibited by his daughter, leaving no stone unturned to do what is best for her child. So, it must have been for Mary and much more, knowing that the child she bore was the Son of God. She also underwent deep sorrow watching her son being rejected, mocked, and crucified.
Nobody sees the life of a child the way the child's mother does. Mary, therefore, had a unique perspective of Jesus' life. By going to her, we can gain incredible insights on Jesus and draw closer to Him. The Rosary, for example, is like the Blessed Mother taking us by hand to contemplate the life of Jesus.
International Women's Day is celebrated to highlight the contributions as well as the plight of women today. In many places, women still suffer injustices: receiving less pay, denied education, mistreated, and abused merely for being born woman. Deacon invited the men present to reflect on how they have treated the women around them, and to remember to always honour the dignity of all women.
God made man male and female, equal but different, Deacon emphasised. Eve was created to be a help-mate to Adam; not a slave but a helper, a complement to Adam. He reiterated that the Church, through the ages has advocated for the equality of men and women and recognises the unique role of women in the world. Mary, he added is the greatest human created, and that speaks volumes about the value of women before God and the Church. Through her example of life, Mary has much to teach us on how to live as a woman of God in the world today.
The talk was followed by a blessing over all women by Fr Dominic. After that, there was a cake-cutting ceremony followed by fellowship. The women present received a medal of our Blessed Mother as a gift.
For more photos from the event, please visit https://photos.google.com/share/AF1QipNkoAgN82rNYP98lVBuy2TjDXBANrPeGp_jPYP0aKfmFDR9IUzdf3vW57waYBHWng?key=Y25NNThZQjk3ZFdlcmVpYjdwVlhhVWQ4WHNrbU1R